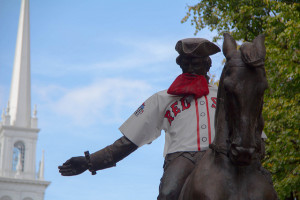 You know the old saying, "… a picture is worth a thousand words", right? Well, how much is a really great picture worth?
When I travel to conferences and events, I like to organize a photowalk before the conference starts. What's a photowalk? A photowalk is simply a group of people wandering around a location taking pictures. There's lots of talking, sharing, stops for drinks or food, and lots of walking.
I've had people wondering why I would do this and what's it got to do with Tech Evangelism. And, the answer is, "A lot… "
You see, when you meet people, face to face, and have a shared experience, like a photowalk, it creates a connection. It's the start of a relationship. And, remember… relationships take time.
Also, a photowalk is a great way to create content for your blog, Facebook, Twitter, Instagram, Snapchat and whatever other sites you are using. Using other people's images and stock images are not always the best option. Why not create your own?
What can you expect to get out of a photowalk? Lots of learning from experienced techies, networking, and content. And, the nice thing about a photowalk is that you can meet people before your event even starts. It's a great way to meet people
These types of shared experiences build long lasting bonds. I have friends all over the world that I've met in the tech industry from organizing photowalks.
A pre-conference photowalk is also a great way to build a relationship with the conference organizer. If you organize a photowalk before a conference, be sure to let the organizer know. They appreciate you planning an event and might even help promote it!
You can plan a photowalk in a few easy steps. I usually start planning 4-6 weeks before an event.
Pick a date, time and route. If you're not from the area, ask a local or do some research online.
Pick a hashtag for your event.
Post your event details online – I prefer Facebook and EventBrite. They're both free. Meet-up is another great site.
Let the organizer know and see if they help promote your event. Here is an example of a photowalk from Business of Software conference that the lovely organizers helped promote.
Start promoting your photowalk using the event hashtag on Twitter, Facebook and other sites the conference attendees might frequent. Ask other attendees to help spread the word about your event.
Charge your batteries. A paper map is a good back-up if you drain your battery. Bring business cards.
Have fun!